Data Transfer from NMR Workstations
NMR Workstation Hostnames
Use the following hostnames:
nmr400b.chem.ucsb.edu (for new 400)
nmr400.chem.ucsb.edu (or simply nmr400 for computers connected to department network)
nmr500.chem.ucsb.edu (or simply nmr500 for computers connected to department network)
nmr600.chem.ucsb.edu (or simply nmr600 for computers connected to department network)
rabi.chem.ucsb.edu (data processing workstation)
NOTE: Recent network changes at the department make the NMR computers inaccessible from off-campus IP addresses. Please use VPN or campus networked computers to do the data transfer. In rare cases, you can use a USB stick to transfer data directly from the computers, but this is not recommended due to virus concerns.
Please note that you should use the secure FTP protocol (sftp) for data transfer from the NMR workstations to a Windows or Macintosh based system. NMR400 and 500 still allow regular FTP, but this will change if we beef up security. For NMR600, only secure data transfer is allowed. A good FTP program offers the secure FTP protocol as an must-have option. From a Unix or Linux system, secure FTP (sftp) or secure copy (scp) both work fine with the NMR workstations for data transfer.
For security, we only allow computers with an UCSB campus network IP address to connect to the NMR workstations. All other computers are blocked for access.
For Windows
WinSCP is the best secure FTP program. Download this program from its official website and install it. CAUTION: Be carefull not to download any of the Advertisement software on the web site. If you encounter an error message when using drag and drop for data transfer in newer version of the software, you may have to adjust the drag and drop preference. Click Preferences and go to Other General Options->Preferences. Then, click Transfer->Drag & Drop and select Use temporary folder.
When making a connection to a remote computer, click New to create a new session, enter hostname (see below), username and password, and select SFTP under Protocol and check Allow SCP fallback, and save the session setup for future use. DO NOT save the password on a shared computer. With a saved password, anybody can click the saved session and log in and the person can delete and modify your files at will.
To log into the remote computer, highlight the saved session and double-click it or click Login.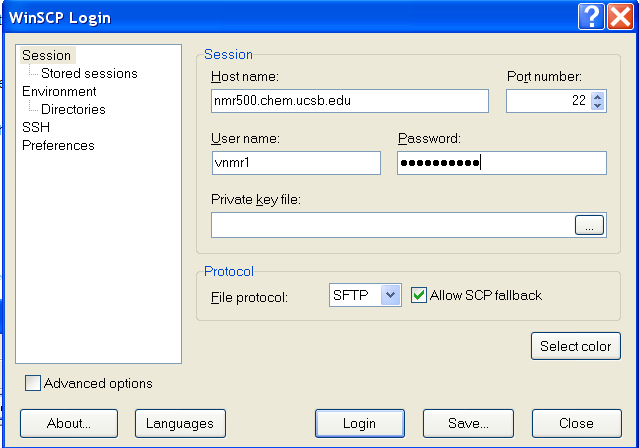 Alternatively, you can use Filezilla for sftp (see Macs section below).
For Macs
Download Filezilla or Fetch for data transfer.
To use Filezilla, enter host name, username and password and set port number to 22 to use sftp (see screenshot below). Click Quickconnect to make the connection.

Alternatively, you can also enter under Host sftp://nmr600.chem.ucsb.edu or simply sftp://nmr600 for department networked computers and leave the port field blank.

---
H. Zhou updated in Jan, 2015