1H T1 Relaxation Time Measurement
T1 or longitudinal relaxation time is the time constant of the exponential relaxation process for spins to return to the equilibrium state along Z from a non-equilibrium state. This value varies between different protons in the molecule, depending on its surrounding atoms, bonding, and local and global dynamics. Paramagnetic ions in the sample may drastically change T1, often shortening it. Degassing a sample of small molecules (where the paramagnetic O2 is removed) typically increases T1. Practically, T1 values directly affect signal sensitivity and integration accuracy in fast 1-pulse experiments as discussed here, and also have an strong impact on the quality and accuracy of CYCLENOE (%NOE) measurement. Although it is not necessary to measure T1 values of every sample, it is important to keep in mind the impact of this variable parameter on certain quantitative experiment measurements and the ways to minimize its effects.
Procedure
In the following, go to Process->Text Output to see text/parameter display. To list the experiment library, type explib. To create a new experiment, type cexp(n) where n is an experiment that does not exist. All parameters will be copied over from the current experiment to the new one. Type jexp(n) to join exp #n.
Note: T1 measurement has a wide range of experiment time, from a few mins for a non-degassed concentrated sample, to hours for a degassed dilute sample. The main macro used here, setexp('t1h'), is modified from Varian's dot1 macro.
Step 1:
Spin must be turned off
Lock and shim Z1, Z2. Adjust X1 and Y1 a bit, and re-shim Z1 and Z2.
Lock sample at ~ 70-80%.
Step 2: Collect 1H spectrum
Join exp1 (jexp1, or another exp #). Collect a standard 1H spectrum with nt=1 (or nt=4 for cleaner spectrum)
Put the box cursor to enclose the signal region and to include ~10% flat baseline area at both ends of the signal region. Type movesw . This sets a new spectral width sw and spectrum center tof .
Run another 1H spectrum with nt=1 with the new setting. Phase and reference the spectrum carefully.
From this experiment, estimate how many scans (multiple of 4) are needed to get a decent signal-to-noise of 5:1 or better.
Step 3: Estimate T1 of 1H's
Join exp2 (or another experiment #) with jexp2. Type mf(1,2) to move FID from exp1 to exp2. Type wft f full to display spectrum.
Type setexp('t1h'). Enter the following parameters at the prompt:
Minimum T1 expected (sec): enter ~0.5
Maximum T1 expected (sec): enter your estimate (~ 5 for a typical non-degassed sample; ~ 10 for degassed samples)
Number of scans: enter 1 (or multiple of 4 from estimate in Step 2)
After the input, the program sets up a recycle delay (d1) to 4*max_T1, and displays an array of relaxation delays (d2).
Type time to display experiment time. Type go to start data collection.
As data are being collected, click Process->Autoprocess to process it. If manual processing is needed, type wft ds(1) f full to display the 1st array element (d2=0). Phase this spectrum to negative signal. If you phase it to the normal positive signal, type rp=rp+180 to change it to all negative. Type dssa to display a stack plot, vs=vs*0.5 dssa dscale to halve peak height and re-display array with scale.
See figure below. Each peak may have a different T1 value, reflected as different d2 points where the peak turns from negative to positive (around a null, or no signal point). The null point is needed for an estimate of T1. In the following figure, the null point for the peak at ~8.1ppm is ~ #7 from the bottom, corresponding to d2 of 2 sec. Interpolate between two points if possible to get better estimate of the null point. Write down this value (d2_null).
Optional: If a quick estimate of a known 1H peak is needed here, you can stop the experiment as soon as the peak crosses the null point.
Calculate T1:
T1 should be calculated as: T1_max=d2_null/0.69
Step 4: Optional: Detailed fitting of T1 values (See T1 table below)
Under the T1 experiment (or load saved data), type: wft dssh full ds(arraydim) aph
Click the threshold button in right-side panel. Use the left mouse button to set the yellow line just below the smallest peaks to analyze
Enter dll fp t1 center expl
Exponential curves are fit and displayed on screen
Full analysis results are located in the following useful files under the experiment directory of your home directory: vnmrsys/exp# where # is the experiment number containing the T1 data.
dll.out (peak index, ppm value, intensity list)
analyze.list (fitting results: peak index, T1, error list)
analyze.out (peak index, fitting results, T1 data in delay-intensity pair)
Example
Sample: Strychnine at ~ 25mg/mL (~ 100mM) in cdcl3

Data collected October 2010 (~ 5 mins with nt=1)
d2 (relaxation delay) is set to 11 elements varying from 0 to 32 seconds appearing from bottom to top in the stack plot (see text field in figure below for array values). On the far right is the TMS 0ppm signal. The longest T1 in strychnine appears for the peak at ~ 8.1ppm.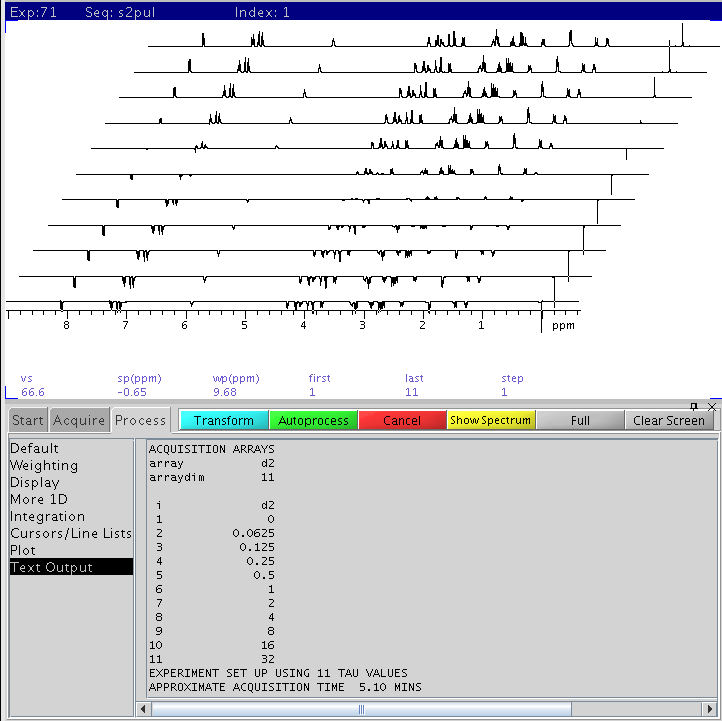 The index of the null crossing point for the 8.1ppm peak is #7 from the bottom, corresponding to a d2 of 2 sec. The setimated T1 value of this 1H is:
T1=d2_null/0.69=2.0/0.69=2.9 sec
The more accurate value, extracted through an exponential fitting, is 3.67 sec (see table below).
Table: Summary of exponential fitting results of T1 inversion-recovery intensity data
T1min ~ 0.52 sec. T1max ~ 3.67 sec
| | | | |
| --- | --- | --- | --- |
| Peak Index | Peak PPM | T1 (sec) | Uncertainty (sec) |
| 1 | 8.10216 | 3.675 | 0.2665 |
| 2 | 8.08622 | 3.63 | 0.1616 |
| 3** | 7.27592 | 8.591 | 0.8691 |
| 4 | 7.27061 | 2.828 | 0.2117 |
| 5 | 7.26824 | 2.482 | 0.1406 |
| 6 | 7.25348 | 2.265 | 0.125 |
| 7 | 7.23753 | 2.164 | 0.1005 |
| 8 | 7.16843 | 1.647 | 0.1201 |
| 9 | 7.15367 | 1.713 | 0.07301 |
| 10 | 7.10996 | 2.095 | 0.1402 |
| 11 | 7.0952 | 2.167 | 0.11 |
| 12 | 7.07984 | 2.13 | 0.04203 |
| 13 | 5.90102 | 1.817 | 0.1042 |
| 14 | 4.3005 | 1.134 | 0.06235 |
| 15 | 4.29401 | 1.127 | 0.0405 |
| 16 | 4.28751 | 1.127 | 0.05556 |
| 17 | 4.28456 | 1.087 | 0.0784 |
| 18 | 4.27747 | 1.088 | 0.07076 |
| 19 | 4.27097 | 1.093 | 0.05687 |
| 20 | 4.1688 | 0.8389 | 0.03495 |
| 21 | 4.15463 | 0.8232 | 0.03953 |
| 22 | 4.14104 | 0.7744 | 0.03844 |
| 23 | 4.12746 | 0.7797 | 0.02982 |
| 24 | 4.08257 | 0.6757 | 0.03265 |
| 25 | 4.07076 | 0.6668 | 0.03759 |
| 26 | 4.05541 | 0.6334 | 0.04381 |
| 27 | 4.043 | 0.6371 | 0.041 |
| 28 | 3.94615 | 1.335 | 0.07579 |
| 29 | 3.86878 | 1.453 | 0.07239 |
| 30 | 3.84752 | 1.502 | 0.05516 |
| 31 | 3.72113 | 0.6836 | 0.02965 |
| 32 | 3.6916 | 0.672 | 0.04287 |
| 33 | 3.21794 | 0.6636 | 0.0259 |
| 34 | 3.21322 | 0.712 | 0.02809 |
| 35 | 3.2079 | 0.7372 | 0.03002 |
| 36 | 3.19905 | 0.6981 | 0.04113 |
| 37 | 3.19078 | 0.7317 | 0.02781 |
| 38 | 3.18251 | 0.6999 | 0.04901 |
| 39 | 3.1577 | 0.8789 | 0.03441 |
| 40 | 3.14117 | 1.031 | 0.05386 |
| 41 | 3.12286 | 0.8595 | 0.05201 |
| 42 | 3.10632 | 0.8306 | 0.0389 |
| 43 | 2.90079 | 0.5316 | 0.02843 |
| 44 | 2.88012 | 0.5552 | 0.0345 |
| 45 | 2.86241 | 0.5485 | 0.02592 |
| 46 | 2.84351 | 0.5353 | 0.02728 |
| 47 | 2.74429 | 0.6285 | 0.02806 |
| 48 | 2.71476 | 0.6297 | 0.02706 |
| 49 | 2.69172 | 0.8202 | 0.02963 |
| 50 | 2.68464 | 0.8564 | 0.03447 |
| 51 | 2.65688 | 0.8483 | 0.03334 |
| 52 | 2.65038 | 0.864 | 0.05475 |
| 53 | 2.38048 | 0.5284 | 0.01943 |
| 54 | 2.37221 | 0.5276 | 0.0162 |
| 55 | 2.36335 | 0.5417 | 0.02828 |
| 56 | 2.35213 | 0.5557 | 0.02442 |
| 57 | 2.34327 | 0.5381 | 0.0316 |
| 58 | 2.335 | 0.5524 | 0.0544 |
| 59 | 1.90446 | 0.6484 | 0.02012 |
| 60 | 1.89619 | 0.6672 | 0.03134 |
| 61 | 1.88556 | 0.6721 | 0.03328 |
| 62 | 1.87493 | 0.7234 | 0.07359 |
| 63 | 1.47096 | 0.539 | 0.01987 |
| 64 | 1.44203 | 0.5607 | 0.02737 |
| 65 | 1.29024 | 1.16 | 0.03404 |
| 66 | 1.28434 | 1.202 | 0.05118 |
| 67 | 1.27784 | 1.231 | 0.08796 |
| 68 | 1.26957 | 1.262 | 0.06103 |
| 69 | 1.26308 | 1.254 | 0.06905 |
| 70 | 1.25717 | 1.305 | 0.1476 |
| 71*** | 0.00865212 | 2.751 | 0.9253 |
| 72*** | 0.00215558 | 5.674 | 0.1518 |
** Residual solvent peak from cdcl3.

***TMS reference peak at 0.0ppm
---
H. Zhou updated Nov 2010