nmrDraw
H.Zhou updated Oct 2010
nmrDraw is a spectrum display program that is integrated with the nmrPipe data processing program. To launch nmrDraw:
cd noesy2d.fid (change directory to inside the .fid folder)
nmrDraw& (start nmrDraw in background mode. Note the capital D in nmrDraw)
By default, nmrDraw reads the file named test.ft2 in the current folder. test.ft2 is also the default name of all output files of 2D processing.
nmrPipe engages all three mouse buttons. All main menu items (see image below) are accessible with the right button click. Here is a list of the main controls with mouse click or pressing a shortcut key:
r (read/redraw graphics or contours)
f (display full spectrum after zoom)
m (macro edit window)
z (2D zoom box. Hold middle mouse button to move box around. Hold left button at the box corners to resize box. Click right button inside box to expand region)
e (exit zoom or slice mode etc.)
Also:
1D horizontal slice (h or Mouse->1D Horizontal. Hold left button to move slice up/down)
1D vertical slice (v or Mouse->1D Vertical. Hold left button to move slice left/right)
Change colors of contours (Draw->2D Colors)
Set PPM limits of spectrum display (Draw->2D Limits)
nmrDraw main window and menus
| | | | | | |
| --- | --- | --- | --- | --- | --- |
| | | | | | |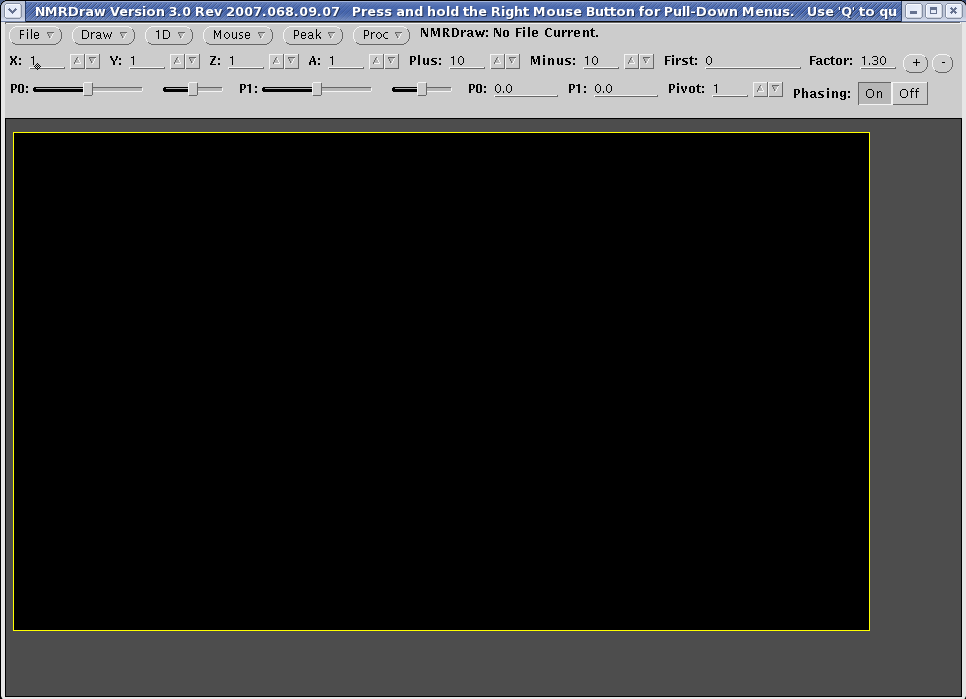 xxx