Adjust Color Setting on NMR Workstation for Fine Printing
To print with the HP LaserJet printer next to the data station, make sure you change the setting in the "Plot" color scheme to black following the procedure below. You may see the spectrum printed in dotted lines if the Postscript color setting for spectrum is not black. The color scheme setting does not affect the quality of the figure if the plot is output to a file in .ps, .jpg or .pdf format as discussed here, except that the color of the spectrum will be the one set in the color scheme. To output the plot to a file allows you to print a good quality color figure on a color printer.
NOTE:
We have had inconsistency in printing under different accounts. Please report any problem you might see under your account.
These are the steps for maunaully changing the plot color scheme:
Open vnmrJ. Click the "Styles and Themes" button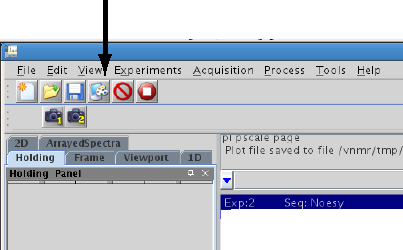 Select Default in the Theme pulldown menu, and click Load. Click DisplayColors. The color should be black for Plot Postscript. If not, make all the color selections under Plot Postscript to black. Click Save to save the changes you made.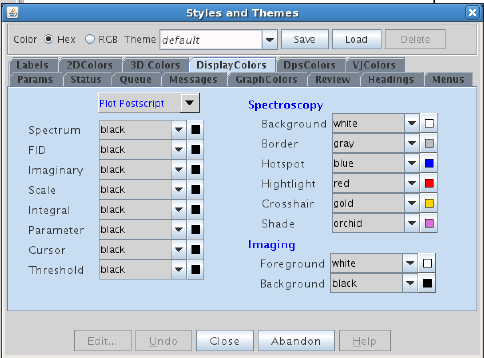 Click Close to close the Styles and Themes panel.
Select the plotter to use:
Click File->Printers in the upper left corner of the top menu
Under Plotter, select either letterplotter (regular letter sized print) or HiRes11x17 for printing on big paper (to the large format LaserPrinter by data station).
Make sure under Process->Plot, "Printout" is set to printer
Alternatively, go to Process->Plot. Select the plotter you want under Send this plot to.

---
H. Zhou updated Nov 2010