{P31}H1 Experiment
For P31-containing compounds, 1D H1 spectra can be collected with or without P31 decoupling so that P31 coupled H1 peaks can be identified and the coupling constants can also be measured. P31 decoupling can be achieved either with a broadband decoupling scheme (to cover multiple P31 peaks) or with a weak CW power to decouple one P31 peak or multiplet at a time. For high-resolution H1 spectrum when the acquisition (and decoupling) time is long (>1 sec), selective P31 decoupling with weak power is preferred in order to minimize probe and sample heating.
Pulse sequence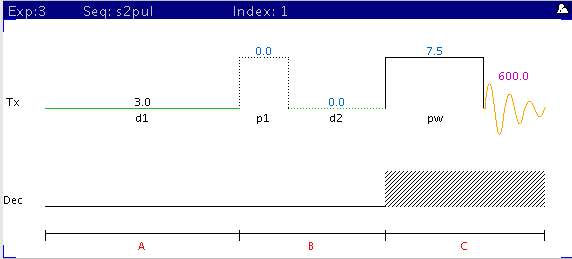 Procedure
Step 1: Lock and shim
Optional: Spin should be turned off for best stability, unless better linewidth with spinning is desired.
Join exp1 (jexp1, or another exp #). Type init1h to load standard 1H parameters and shims
Adjust solvent setting
Lock and shim Z1, Z2. Adjust X1 and Y1 a bit if spin is turned off, and re-shim Z1 and Z2.
Lock sample at ~ 70-80%.
Step 2: Collect H1 spectrum without P31 decoupling
Collect a standard 1H spectrum with nt=1 (or nt=4 for cleaner spectrum)
Put the box cursor to enclose the signal region and to include ~10% flat baseline area at both ends of the signal region. Type movesw.
Collect another 1H spectrum with the new setting. Phase and reference the spectrum carefully.
Step 3: Load parameters and tune X-channel for P31
Join exp2 (or another experiment #) with jexp2. Type mf(1,2) wft f full to move FID from exp1 to exp2.
Type setexp('H1_P31dec')
Type su
Tune probe X-channel for P31
Insert tuning stick, labeled 13T, for P31
Use the broadband side of probe and output cables to tune channel 2 for P31
Recable X-channel for decoupling (talk to staff if you are not sure what this means)
Remove the two small square filters from the front of the broadband preamp (left).
Connect one end of the filters to the X-channel decoupling input cable running from the back of the magnet-leg interface (labeled).
Connect the other end of the filters to the cable leading to the probe X-channel
You have to use an adapter (female to male) to join one end of the filters (female) to the cable end (female).
Step 4: Set and submit experiment
Readjust Z1 and Z2 a bit after cabling change.
The default setting is for two arrayed experiments, one without decoupling and one with decoupling. The two spectra are run in interleaved mode every 4 scans by default (il='y').
If you only want to do the experiment with P31 decoupling, type dm='nny'.
Based on the signal strength of the 1H spectrum, set proper, equivalent nt.
The default center of P31 is ~10ppm. To change this to the center of the P31 peak you have:
With the H1 spectrum referenced, type setrefppm and enter the P31 ppm value desired.
Type go to start experiment.
Step 5: Processing
As in most experiments, click Process->Autoprocess to use vnmrJ's autoprocessing feature during or after experiment.
For manual processing:
After the 1st array element (reference) is done, type wft aph f full. Manually adjust phase and zoom/expand if necessary.
Type dssa dscale to show arrayed spectra vertically. Type vs=vs*0.5 dssa dscale to shrink peaks by half.
To display any one of the arrayed spectra, type ds(#) f full where # is the index number of the element (1,2, 3 .. etc.)
Step 6: Finishing up: tune probe X-channel to C13 and recable
Insert the 100% cdcl3 "Idle" sample.
Type tn='C13' su
Tune probe X-channel (as channel 1) to C13
Reconnect the two square filters back to the broadband preamp
Connect the X-channel probe cable to the end of the filters
Examples
Sample:

1% CH3I (99% C13-labeled) + 1% trimethyl phosphite in cdcl3
Data collected in Dec 2010

Bottom: P31-coupled H1 spectrum

CH3I reacts with trimethyl phosphite to form (CH3)P(=O)(OCH3)2 with the P31 direct bonded CH3 partially C13 labeled. The P31-coupled methyl esters give a doublet peak at 3.75ppm. The direct P31 coupled CH3 appears between 1.3 to 1.7ppm: the outer two are from 13C-attached H1 separated by C-H coupling constant of ~130Hz, and the center doublet is from C12-attached H1.
The three peaks between 2.0 and 2.4ppm are from 12CH3I and 13CH3I.

Top: P31-decoupled H1 spectrum

P31 decoupling collapses the P31-coupled CH3 peak at 3.7ppm and between 1.3 to 1.7ppm and causes no effect on the CH3I peaks.
---
H. Zhou updated Dec 2010